After asking you to wait for the pictures, I'm hate to admit that I wasn't able to PhotoShop any of the pictures we took during the concert to anything usable for this blog, so I probably could have included them in the original post. But, if you read to the end, you'll see the benefit of waiting.
So, here are the pictures. I hope you enjoy it, because I had fun taking them and seeing my children embrace the experience.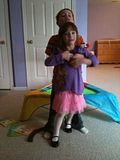 After everyone is dressed, we need to take pictures. Daniel is "helping" by holding Rachel in place so I can snap a picture showing off her new "tap shoes". Simon and Rachel start dancing to get in the spirit of the day.
This was our attempt at tagging the twins (Daniel had something similar in his pocket) -- I tried to tape these to Rachel's and Simon's back (the differences between the two are obvious). Unfortunately, they weren't adhering well and they would each reach behind them to remove them, so it didn't work.
But I would recommend ANYONE going to a crowded place with autistic children to somehow "tag" them. If kids get lost, they can panic. Autistic kids often can't express themselves effectively when panic strikes, even if they can under normal circumstances. This way, they don't have to. Their "tag" does it for them. You can use temporary tattoos, military style dog tags, whatever. These are not difficult to find online. But it definitely gives caregivers a peace of mind knowing that others can help if the kids get lost.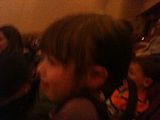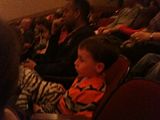 Simon, Rachel and Daniel, during the concert. As soon as the concert started, Simon assumes "the position", with his hands over his ears. But he's not crying or complaining. This is all right for now.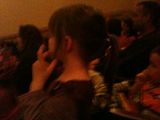 Then, as things get going, they start to get a bit more comfortable. Simon even takes one hand off his ear. He's still not sure what to make of it all. Rachel's just excited.
Then Rachel with a lobster on her head and Daniel with Zebra on his head (during "Pig On Her Head"). This is when Simon lost the hands over the ears as he held his bunny. Unfortunately, these are the only (and best) shots that I have of them that are viewable (and some of them I would BARELY call viewable). The theater (especially the back of the balcony where we were sitting) really was too dark for the camera without a flash (which isn't available on the iPhone 3Gs) and it was just too dark for PhotoShop to fix.
Daniel and Rachel approach the band (Laurie first) after the concert. They both gave her a big hug. Then Simon went up to her and started requesting songs. She obliged him by starting to sing the song he requested (3 in particular) before, after one line from each, he would ask for a different song. He definitely has a sense of humor, my Simon. The last picture, Daniel is actually present on Laurie's right (but I accidentally cut him out of the picture in my haste of getting a picture of the band), and Rachel and Simon are sitting on the laps of the other band members; Adam Bernstein (bass), Bobby Golden (drums), Susie Lampert (keyboards).
All 3 kids got "shaky eggs". This one is Daniel's (obviously).
And, for those of you who were waiting for the pictures, I have a surprise for you. Here's my Rachel with her version of "I Know A Chicken" that she decided to perform for me on Monday morning.
Thanks so much for reading about us, and for all the suggestions people gave us, both in direct response to my blog posts and to my many postings on Facebook. It was a wonderful day and now we're over a hurdle. We just have to be sure to reinforce this.